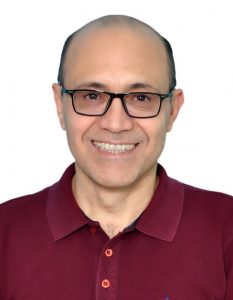 Martin Foroz (Mohammad Forouzani) was born on the 30th of December 1964 in Tehran, Iran. He holds BA and MA degrees in English Literature and a PhD. degree in TEFL. He has been working as assistant professor of English Language and Literature at the University of Nizwa, Oman, since 2014.
In the past 19 years, he has been teaching and supervising theses in both fields, but his literary and philosophical bends formed his poetic sense much earlier- at the beginning of secondary school. He insatiably read Persian Literature (his first language) and wrote poems and pieces of prose since he was in high school. His first collection of Persian poems under the title Khaste-tar az zaman (More Tired Than Time) was published in 1997 when he was a Lecturer of English. He continued writing poems, satires, and social critiques in Persian, and since late 2013, he decided to organize his English notes and sketches into verse.
His collection of English poems soon increased in size, and he adopted the pen name Martin Foroz, and signed the poems under his pen name. Martin is the true him which delicately unfolds in some of his poems that reflect his personal beliefs as well as his experiences as an expatriate.
Martin was deeply moved by the war news from around the world so much that most of his late-2016 poems addressed refugees, war crimes, terrorism and terrorist groups, and the victims of violence-the civilians- mostly due to conflicts in and clashes of ideologies.
His poems cover a variety of themes (nature, love, philosophy, religion, and faith, etc.), but the recurrent themes in his works include the mind-heart relationship, the poet and his Muse, and Metapoetry- the concept he introduced in his poems first in late 2016. Inside Out and Out Inside are Martin's first and second collections of poems. He writes mostly in free verse, but in his third collection (presently in the editing process), he has produced pieces of rhymed poetry and dramatic verse as tributes to the classical and modern poets from the 17th to the 20th century. He has drawn on English and American Poetry in the form of quotations and allusions.
Some of his poems that appear in Inside Out have also been published in online poetry magazines and journals including:
"A Short Night Story", "Shakespeare in Mourning": Tuck Magazine
"The Concept", "On Vice and Virtue", "Innocence and Experience", "A Little Philosophy", "The Piece": Raven Cage Ezine
"Darkness": The Poet Community
"Further Research", "A Change in the Opposite Direction", "Metamorphosis": Daath Voyage Journal: 
"Bed": Poetry Life and Times
"Peaceful Cohabitation", "Eudemonism": Peacock Journal
"Wizardly": Scarlet Leaf Review
"Mischievous Battles", "The Hunt", "Salvation Lost", "Imprisoned Poems",
As an English Language and Linguistics professor, Martin's areas of interest and practice include critical pedagogy, linguistics, and semantics. His Illustrative Dictionary of Semantics (ILLUDS) is a rich companion to semantic concepts, issues, topics, and definitions, and a user-friendly guide for semantics researchers and students of linguistics who would like to access an array of semantics topics in a single volume. More than one-hundred references were used in collecting and organizing headwords and explanations in this illustrative dictionary, and users can easily refer to said references for detailed explanations.
Martin is a lover of nature, interested in photography with natural and social themes, and very much fond of traveling and learning about different cultures.